7 Refreshing Healthy Drinks To Beat The Heat Wave
7 Refreshing Healthy Drinks To Beat The Heat Wave
While you can always drink lots of water to hydrate yourself and survive the heat wave, sometimes it isn't enough.
It is time to look at easy refreshing healthy drinks to beat the heat wave. Rest assured that the beverages we'll discuss are refreshing and equally healthy.
Let's help you learn about different beverages to quench your thirst this summer and stay healthy and refreshed at all times.
1. Sattu
This is the ultimate drink to beat this year's heat wave. What makes this an ideal summer drink is its incredible cooling properties, coupled with numerous health benefits.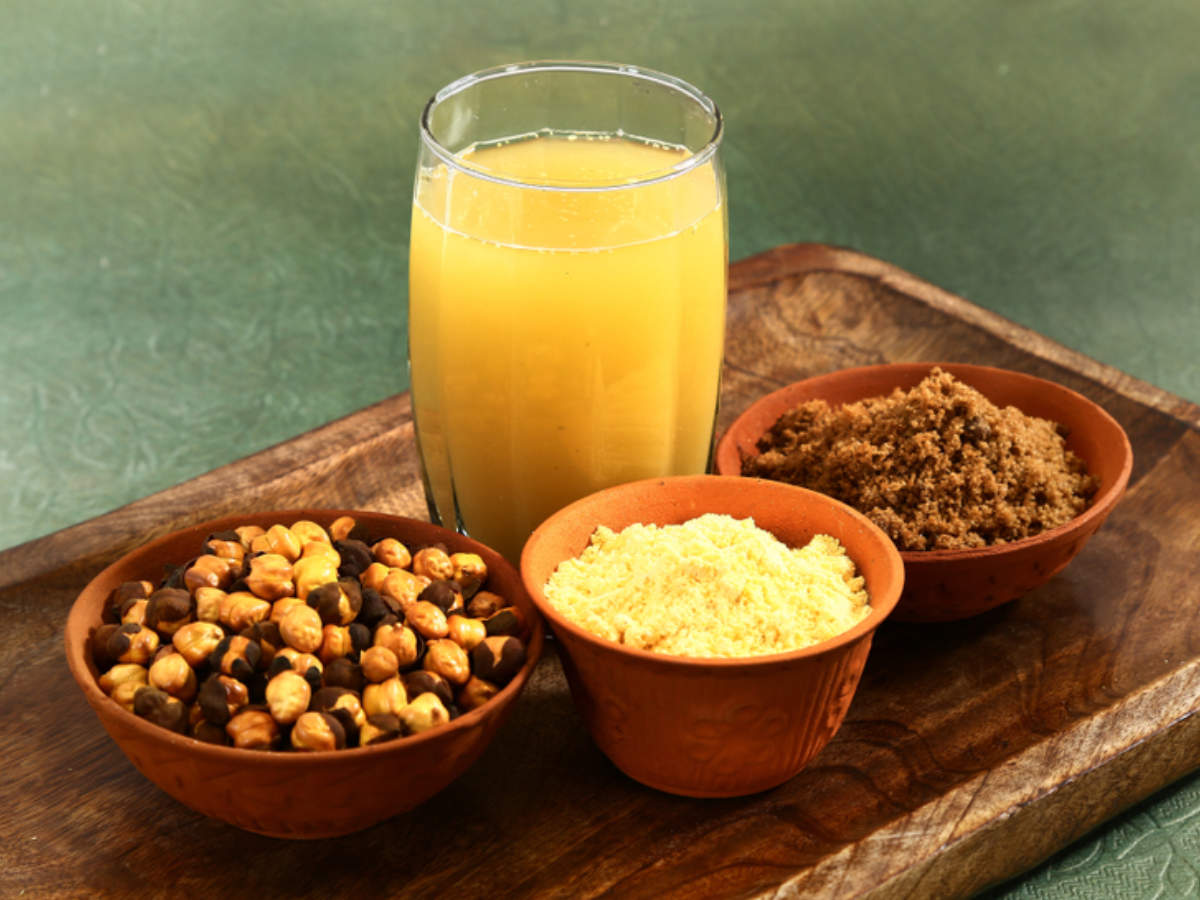 Made with roasted black chanas, sattu powder has a lot of essential nutrients, proteins, and fibres, helping you fight off the heat and enriching your body with goodness. Here's a list of the ingredients:
Sattu powder
Sugar
Lemon juice
Water
Ice cubes
Cumin powder (roasted)
Sattu is a detox drink that cleanses your system, aids in weight loss, and works as a cooling beverage.
2. Aam Ka Panna
Try aam ka panna if you want to stay cool this summer and replenish the mineral levels in your body with vital micro-nutrients. Experts suggest aam ka panna proves increasingly beneficial in treating gastrointestinal problems.
Do you want to make this refreshing summer drink at home? Here are the items you need:
Water
Green raw mangoes
Ice
Brown/White sugar
Cumin powder
Black salt
Salt
Mint leaves
The quantity of these ingredients depends on the number of glasses you intend to make.
3. Falsa Sharbat
You may already be familiar with the benefits of falsa sharbat since it is a highly popular summer drink in India, but let's take a trip down memory lane. This is a beverage made from falsa fruits, which are small berries found on the tree Grewia Asiatica. Here are the items you need to make falsa sharbat:
Soda water
Falsa
Sugar
Water
Ice cubes
You can avoid using sugar if you prefer the falsa sharbat to taste a little sour.
Did you know drinking a glass of falsa sharbat lowers the risk of a stroke? That's right; it cures heart and blood disorders, other than helping you deal with your thirst during the heatwave.
Also Watch:
4. Buttermilk (Chaas)
Here's another all-round summer drink to stay safe during the heatwave and boost your health. It is a refreshing beverage that prevents dehydration and provides your body with multiple nutrients, such as calcium and B vitamins.
Here are the ingredients you need to make chaas at home:
Chilled yoghurt
Roasted cumin powder
Chaat masala
Fresh coriander and mint leaves
Black pepper or small green chillies
Salt
Freshly peeled ginger
Chaas is a highly beneficial and refreshing healthy drink that aids in digestion, reduces acidity, improves electrolyte balance, and helps manage high blood pressure. After all, look at the healthy list of ingredients that are added to make this summer drink.
5. Lassi
Perhaps one of the most common drinks people prefer to have during the summer is lassi. Keep in mind that lassi is thicker than chaas. It is a very popular refreshment served to guests in households, plus, you'll find it at local cafes, hotels, dhabas, and even at high-end restaurants.
Lassi is a traditional drink made with yoghurt, milk, or water and various spices. You can make a sweet lassi or a salty one, depending on your preferences. Interestingly, you'll find numerous variations of lassi, including mango lassi, gulkand lassi, paan lassi, kesar lassi, nut lassi, and more.
To make sweet lassi, you need chilled curd, sugar, rosewater, saffron strands, and cardamom powder. Now, you'll have to add water or milk, depending on the consistency of the lassi you are going for.
Similarly, for salted lassi, you need chilled curd, roasted cumin powder, black salt, and chilled water. Make sure to taste before serving to adjust the spices and water or milk as needed.
Lassi is a popular summer drink because it energizes anyone who drinks it during the day. It is also great for your digestive health, so be sure to have one.
6. Bael Juice
Bael juice is something many Indians drink religiously through the summer season. It refreshes your body and helps prevent various illnesses. Even dieticians and nutritionists recommend people drink Bael juice.
Here's a list of ingredients you need to put together to make a refreshing glass of Bael juice:
Ripe Bael fruit
Sugar
Water
You can skip the sugar if you want since Bael is mildly sweet. Drinking bael juice on an empty stomach is recommended by many experts.
Bael juice helps deal with countless diseases, including cancer, diabetes, heart diseases, scurvy, haemorrhoids, diarrhoea, etc. Plus, it acts as a blood purifier and offers gastroprotective, antimicrobial, and anti-inflammatory properties. On top of that, it helps avoid skin rashes, controls cholesterol, deals with respiratory problems, and cools down the body.
7. Lemonade
Nothing beats the heat like a good old lemonade or nimbu paani. All you need to prepare a refreshing and healthy glass of lemonade are sugar, water, salt, lemon juice, and black salt. You can garnish your drink with mint leaves.
Lemonade is an extremely common summer drink, also known as shikanji. It doesn't take too long to prepare, and you can also keep it in the fridge for 4 to 5 days. You can replace sugar with honey to make a much healthier glass of lemonade.
Top it off with ice cubes and serve it chilled.
Try these drinks and enjoy them with your friends and family to beat the heat this year.