Noida's Co-Working Spaces Boom: A Trend Set to Continue
Noida's Co-Working Spaces Boom: A Trend Set to Continue
In today's fast-paced corporate world, businesses are increasingly competing to lower costs and boost revenues. It is safe to say that a newly launched company should always look for ways to cut down expenses as much as possible to survive in its initial years. This is where Noida's co-working spaces has emerged as a trend.
Nowadays, the start-up culture is rapidly adapting to the concept of co-working office spaces since it is the ultimate way of controlling administrative costs.
Plus, co-working workspaces offer countless other benefits to newly launched businesses trying to establish roots in their respective industries. 
What Are Co-Working Spaces?
A co-working space is a workspace where different types of companies belonging to equally varying industries work under one roof. The idea is to bring together various kinds of businesses in a single place and fulfill each one's specific requirements while charging them a fee for occupying the workspace.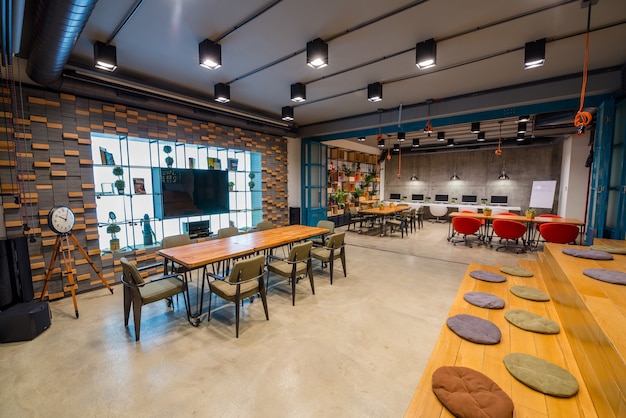 Interestingly, Noida has many co-working spaces for remote and office workers, revolutionising corporate culture for start-ups and self-employed individuals. In such shared office spaces, you'll find scriptwriters, web developers, book writers, stand-up comics, marketing managers, and other kinds of professionals.
At first glance, these places might give you conventional office vibes, but in reality, they are far from it. A co-working space is where experts work with increased flexibility without suits and ties. You can either pay for a daily or monthly pass to use a workstation in a co-working space. Daily passes cost approx Rs 200, while monthly passes are priced between Approx Rs 5,000 and 6,000. 
Many of Noida's co-working spaces have hot desks that are offered to various clients in different time slots. Plus, these shared office spaces also have designated rooms that people can book for meetings or an entire workforce of a single company. 
Read More: WHY SHOULD I BUY OFFICE SPACE IN NOIDA
Benefits of Noida's Co-Working Spaces 
Noida's co-working spaces are booming as more and more businesses recognize their advantages, especially newly established ones. New co-working spaces keep opening up in Noida and its surrounding areas as the demand for them continues to grow. 
So, what are the reasons behind the popularity of co-working office spaces? Let's take a look.
For starters, co-working spaces help businesses save costs of setting up since they no longer have to invest in premises and fixtures and fittings.

Moreover, renting a co-working space instead of an entire floor helps businesses save money on administrative expenses.
Co-working spaces are great for companies with hybrid work environments where employees are not required to check in to the office every day.

Most importantly, entrepreneurs and business executives can create a strong network in a co-working space since they get the golden opportunity to socialize with people from different industries on a daily basis.
To sum it up, Noida's co-working spaces are perfect for today's generation of entrepreneurs and freelancers who hate being shackled to a nine-to-five job and prefer a flexible work environment. 
Co-working spaces are expected to promote the development of a work culture that serves the interests of employees and employers equally. Ultimately, a positive work environment contributes to increased productivity and satisfaction among employees, allowing companies to operate in a seamless manner in the short and long run.
If you are looking for a spacious office space for lease in Sector 132 Noida to develop a co-working space, consider investing in ACE Capitol because it offers a modernised structure that caters to the specific needs of all types of businesses in the corporate world. 
ACE Capitol offers numerous facilities, including a daycare, a multi-level car park, a gym, a cafeteria, a multi-cuisine food court, a training room, and more, making it the ultimate commercial property to open offices in Noida.  

Contact ACE Group to make further inquiries on Noida's commercial real estate projects.